About Us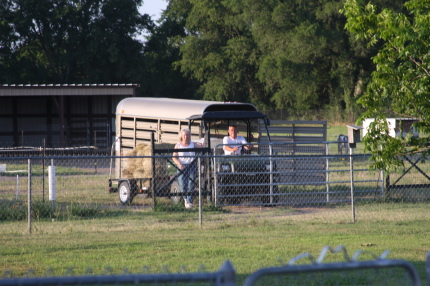 In 2004, we decided pygmy goats would be a nice addition to our retirement life. Together, we cut pipe, welded braces, set T-posts, and stretched 4-foot horse fence on our 16 acres. Then we built a 20'x30' barn (one would be enough!). People told us we needed a donkey to protect our goats from coyotes. The word went out, and in January 2005, God led us to our first "kids" – not goats, but a jack and 3 bred jennets (we've never bought just one of anything!). Four months later, our herd grew to 7. WE WERE HOOKED! Goats never crossed our minds again. As our "family" expanded, so did our construction. We built more barns - two 20'x60's, a 20'x20' "Peanut Palace" (for our herdsire Peanut), a 30'x40' hay barn, and put up more fences.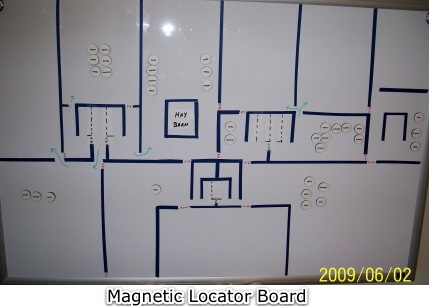 We have nine separate pastures. To keep up with each donkey's pasture location at any given time, we use a magnetic "locator board", (shown at left) drawn to our farm layout, with individual magnetic name buttons for each donkey.
Each donkey also wears a breakaway polycord necklace (show at right) bearing a brass engraved nametag. If the I.D. necklace gets caught, the polycord will easily break away with a small amount of force and not cause harm to the donkey.
---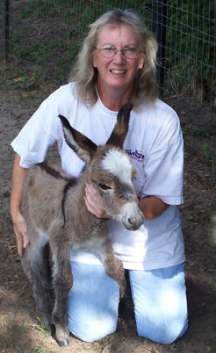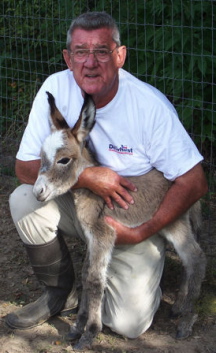 We raise loving, gentle donkeys for pets, companion-ship and pleasure.

We don't have fame, lots of ribbons, or awards, but most of our "stars" have great conformation and could easily be show performers. All are registered, and are current on vaccinations, worming, and hoof care.
All our babies are imprinted at birth, our adults have wonderful dispositions, and since attention is #1, they get lots of TLC! We greet them each morning with a "Good morning, boys & girls"- they respond with the "wave" of brays from one side of our farm to the other.
Like most donkey lovers, we are particular about who we "adopt" our babies to. We won't sell a donkey to someone who has no other animals – unless they are retired and willing to spend plenty of time with them. We won't send one to someone who displays a lack of care and/or concern for animals in general, and we will not knowingly sell a donkey to anyone to be used as a practice animal for rodeo events (yes, it is a common practice in several areas of the country!)

We are located at 8042 W. Hwy 56, Savoy, TX, in North Central Texas near the Red River, about 1 hour north of Dallas, between Sherman and Bonham. Come see us - we'd be honored to visit with you – all of us!
(Click Here to See Map.)